SERVICES:
Design - Drafting - Blueprint
NEW HOMES - REMODELING - ADDITIONS
From on-site measurements to building permit arrangement
Complete building, construction drawing sets
Home plans - Engineering plans
Custom house plans, custom floor plans
BLUEPRINT SERVICE
AutoCAD drawings in A, B, C, D, E sizes
Lot subdivision, and lot tie processing
Conditional Use Permit Processing
Photo-realistic renderings
Water Sculpture Structures
Consultation and Trade
Custom Home Plans:
Contemporary, Mediteranen, Spanish, English tudor and other distinctive styles.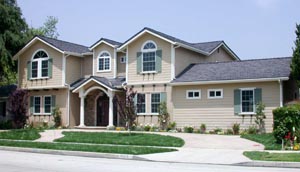 Save hundreds of dollars on energy bills with an effective comprehensive energy loss detection technologie. Taking a series of infrared images from a building, reviels the spots where the heated or cooled air escapes from inside. Also reveils hidden electrical leaking and other defaults on any type of buildings.
The red/purple spots show where the energy escapes from the building